Posts for: December, 2015
By Dr David Kahn, DMD & Dr John Pergolizzi, DMD
December 19, 2015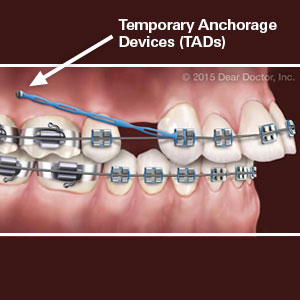 Braces are a common part of many teenagers' life experience — but not every bite problem is alike. Sometimes, there's a need for accurately moving only a few teeth while making sure others don't. This is where Temporary Anchorage Devices (TADs) can help streamline that effort and even reduce treatment time.
Orthodontics wouldn't work at all if we didn't already have a natural tooth movement mechanism in our mouths. That ability rests with the periodontal ligament, a tough, elastic tissue between the teeth and the bone that firmly attaches to both with tiny collagen fibers. Though quite secure in holding teeth in place, the ligament attachment also allows teeth to move in response to changes in the bone and jaw structure.
Braces are made of brackets cemented to tooth surfaces through which tiny wires pass. The wires are anchored, usually to other teeth or groups of teeth, and tightened to apply pressure against the other teeth. The ligament does the rest: as the teeth are "pressured" to move in a certain direction, new bone, ligament and an anchoring substance known as cementum forms behind it to secure the tooth in its new position.
The anchorage teeth are not intended to move. In some situations, though, it's difficult to keep them from not moving — much like trying to keep a boat anchor from not dragging through sand on the sea bottom. TADs help alleviate this problem: it's a mini-screw or mini-implant that's temporarily placed in the jawbone to which the tension wire can be secured. They're placed in the best positions for isolating the teeth that need to be moved without compromising the position of nearby teeth that don't.
With the site numbed with a local anesthetic, we install the TAD through the gum tissue into the bone with a special device; their screw-shaped design holds them securely in place. They're then removed when the orthodontic treatment is complete.
While a simple procedure, precise placement requires collaboration between the orthodontist and the oral surgeon or dentist who installs them. They also need special attention during daily hygiene to keep them clean. Still, with difficult bite situations they can help bring about the right outcome — a straight and beautiful smile.
If you would like more information on orthodontic treatment options, please contact us or schedule an appointment for a consultation. You can also learn more about this topic by reading the Dear Doctor magazine article "What are TADs?"
By Dr David Kahn, DMD & Dr John Pergolizzi, DMD
December 04, 2015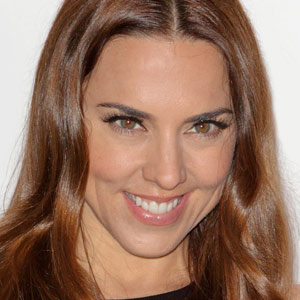 As a member of the best-selling pop group Spice Girls, Mel C (AKA Sporty Spice) enjoyed her share of musical superstardom. At the band's peak in the Nineties, the young singer's signature look featured baggy sweatpants, an assortment of tattoos, a nose stud and a gold-capped incisor, front and center in her mouth. Today, Melanie Chisholm is still singing — but now she's a mom, an amateur triathlete… and that gold tooth is just a memory. Not only that, her smile looks more evenly spaced and whiter than it did when she was referred to as the "tomboy" of the group.
What happened? In our view, it all boils down to changing tastes — plus a little bit of help from dental professionals. As the "wannabe" singer proves, there's no single standard when it comes to making your teeth look their best. Your own look is unique to you — and your smile can reflect that individuality.
For example, crowns (caps) are substantial coverings that may be placed on teeth when they are being restored. They are available in three types: gold, all-porcelain, or porcelain-fused-to-metal. The latter two are tooth-colored, while the gold is — well, shiny like gold bling. Which one is right for you? In many cases, it's your choice.
Likewise, dental veneers — wafer-thin shells that can correct cosmetic issues by covering the surface of your teeth — can be made in a variety of shades. Their hues may range from natural ivory to Hollywood white, and everything in between. What's the best color for you? Only you can say.
Some people opt for a "smile makeover" that uses small irregularities in the spacing and color of teeth to create a more "natural" look. Other folks want a perfectly even, brilliant white smile that dazzles the eye. Still others are looking to match or restore the smile they once had — perhaps even re-creating a signature gap between the teeth. As long as there are no other dental issues involved, the choice is yours.
So if you're unhappy with your smile — or if you feel it doesn't reflect the person you "wannabe" — why not talk to us about a smile makeover? Just call our office to schedule a consultation. You can learn more about this topic in the Dear Doctor magazine articles "Beautiful Smiles by Design" and "The Impact of a Smile Makeover."